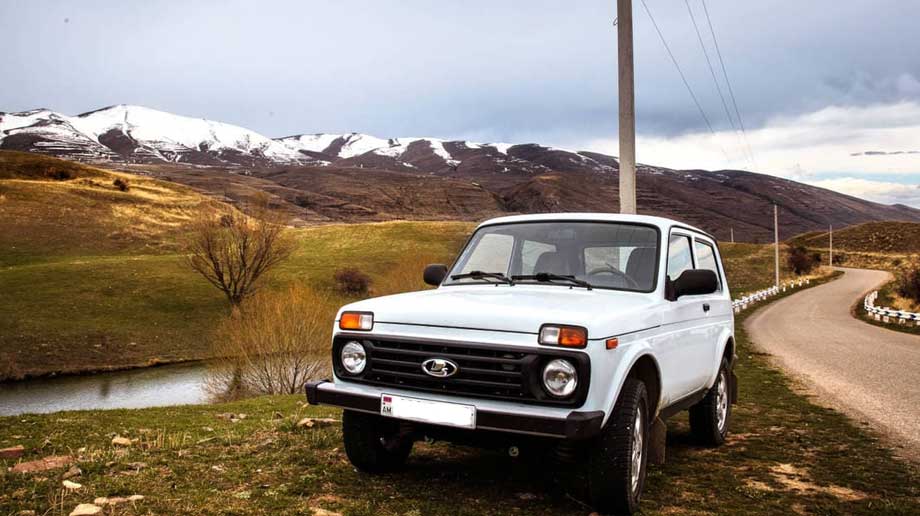 Niva Lada cars for traveling on the roads of Armenia
Many guests visiting Armenia who want to travel by car are offered to rent an inexpensive but reliable car model Niva Lada at the rental points. In this article we will try to understand the reason for this popularity, as well as the advantages and disadvantages of traveling on cars of this model.
Description of the car Niva Lada
In order to get answers to the above questions, we will introduce you to some technical characteristics of Niva Lada cars.
Good geometrical parameters of cross-country ability, a carrying body, transmission with permanent all-wheel drive and a powerful engine provide high cross-country ability. Thanks to these parameters, the Niva Lada is considered one of the best among small-class SUVs.
Advantages of the car Niva Lada
Armenia is a country with a complex geographical landscape. Many ancient architectural monuments, which traveler would very much like to see, are located in inaccessible places, in mountainous areas, with steep climbs and gentle descents. Despite the well-developed infrastructure, access to some of them is quite problematic. It is at these moments that you understand why you were so aggressively offered to rent a Niva Lada. Patency and reliability, in such cases, have more than once helped travelers overcome problem areas. In addition to the technical parameters, we will also take into account an important factor - affordable prices for renting cars of this model.
The disadvantages of the car Niva Lada
It is quite natural that small-class SUVs, differing in higher reliability, are somewhat inferior in comfort to cars of other classes. Therefore, making your choice, try to get the most information about the route of the trip and the landscape specifics of the places of the proposed visit. This will help you, in one case - not to get stuck on the road, and in the other - to travel in more comfortable conditions. In particular, this applies to tourists traveling with their families.
We hope that this fact-finding article will help you make the right choice when renting a car. It remains to wish you a pleasant and exciting journey through our country!